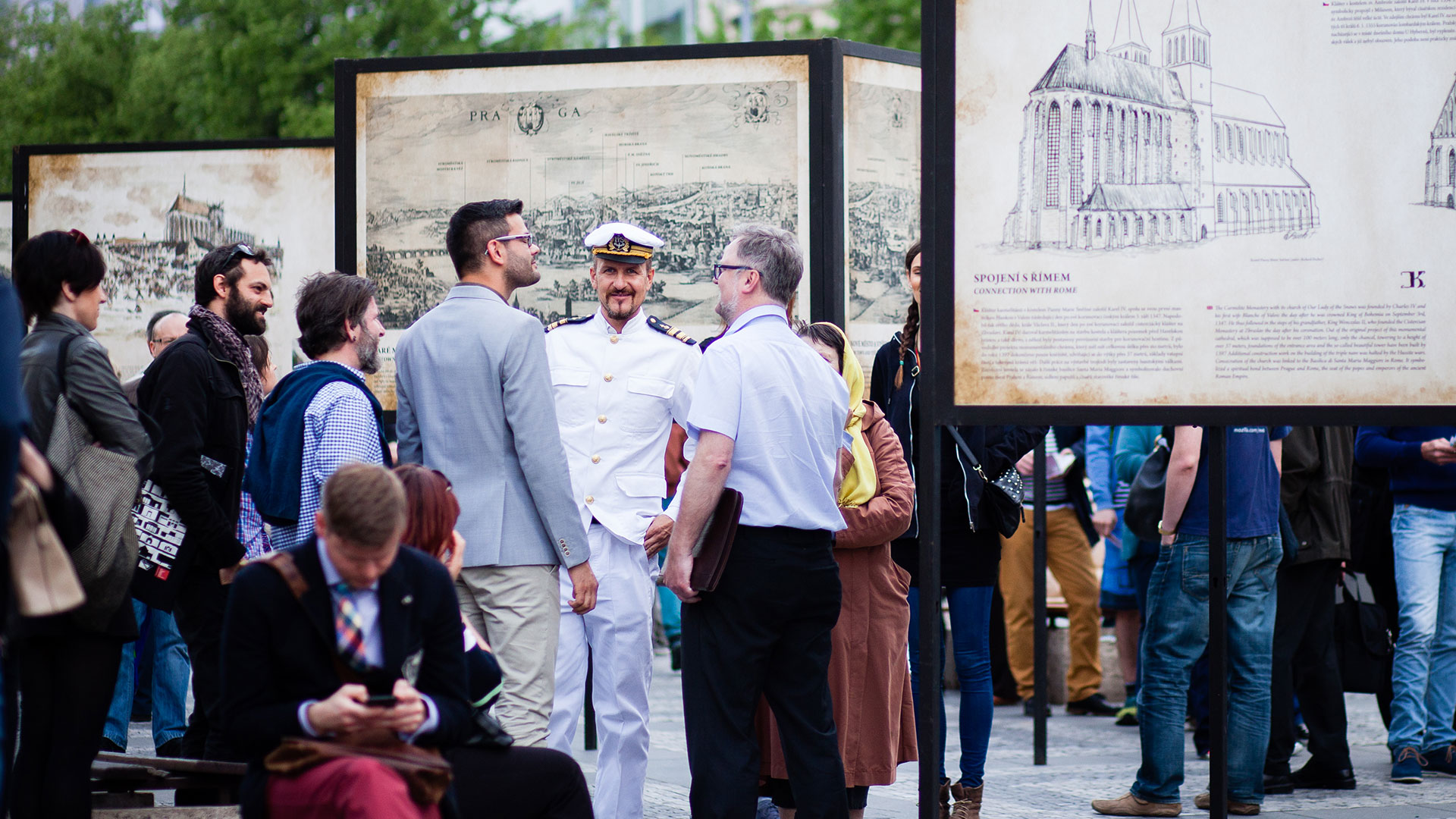 SECRET CODE OF CHARLES IV
An exhibition on Wenceslas Square to commemorate the 700th anniversary of the birth of Charles IV

The project aims to present the New Town of Prague and Charles IV as a builder and great visionary, who admirably realised his plans. The ideological and urban design of the New Town, planned as the embodiment of holy Jerusalem, still amazes with its grandness and sophistication. The line of streets, the size and spacing of main areas, as well as the location of religious dominant points and their consecration all fit a complex ideological plan. Charles IV left behind a monumental code. The time has come to crack it!
The outdoor exhibition at the top of Wenceslas Square, deals with the urban and symbolic design of the New Town in the context of Prague, the Czech crown lands and Holy Roman Empire. Twenty-eight panels present unique graphic material showing what the New Town looked like in the Middle Ages.
The Secret Code of Charles IV exhibition opened on 3 May 2016 at 16:00. Everything went well, thank you for your positive reception.
Our special thanks to the speakers and supporters for their speeches: Jan Wolf, Prague City Councillor; Eliška Kaplický Fuchsová, Prague City Hall; prof. Kislingerová, Prague City Hall, and Jan Krejčí, Councillor for Prague 1. And a thank you to all those who came for the great attendance.
The press release can be found here.
Accompanying events:
5 May 2016 (18:00)
Europe Metropolis – lecture at the New Town Hall
The public lecture will focus on a presentation of the urban design of the New Town and the importance of Prague as the capital of the Holy Roman Empire, an important crossroads of trade routes and the building site of medieval Europe. The town hall's capacity is approximately 160 people.
17 May 2016 (18:00)
Holy Jerusalem – Benedictine Monastery, Na Slovanech
The public lecture will focus on a presentation of the symbolic concept of the New Town, conceived as the embodiment of holy Jerusalem, the ideal city, where all who are saved go. The lecture will present individual religious monuments in the New Town, their mutual spatial relations, consecration and spiritual bond to important centres of Christianity. The hall's capacity is 160 people.
14 May and 28 May 2016 (18:00)
New Town Cross – excursion on 2 dates
A free public excursion on which participants will be acquainted with selected religious buildings in the New Town, dealing with their original medieval form, ideological mission and importance in the urban structure of the New Town, and the overall ideological plan of their foundation. Capacity is limited to 50 people. Places will need to be booked in advance.